Rabbits are now the 3rd most popular pet in the UK, however the knowledge about how to properly keep rabbits at home in a way that will make them happy, safe and healthy is sadly quite lacking. So today we're going to talk about bunny accommodation.
Why is a hutch not enough?
The majority of hutches are just far too small. Rabbits need space and stimulation - they need to be able to hop, run, stretch, forage and dig to keep their minds and bodies active and healthy. In the past rabbits were mainly kept as a means for food or fur, so their needs were never taken into consideration when designing housing. A small wooden hutch at the end of the garden was enough. And although nowadays rabbits are predominantly beloved pets, old ideas about how they should be kept haven't quite been updated. Studies have shown that rabbits have similar space and movement requirements as a cat - so it is vital that we change the way we look at keeping pet rabbits.
What can you do?
The guidelines from RWAF state that any hutch must be a minimum of 6ftx2ftx2ft and there must be access to a secure exercise area. Hutches that have attached runs are always a good idea as being able to stretch their legs properly is vital for a bun. However many people are beginning to change the way they look at rabbit housing and avoiding hutches - there are lots of different ways to make spacious and comfortable living accommodations for your bunny. Wendy houses and sheds not only make excellent homes for bunnies they also give great shelter for you in our temperamental weather meaning you can clean out and cuddle without getting wet! Inside these, hutches and cages can be used as a base for bedding or for toilet training. Again, attached exercise areas are a great idea for some fresh air and a run around. Fitting a cat flap is any easy solution for this. Below are some pictures of a great set up from one adopter - a rabbit palace!
Does your rabbit live indoors?
If you are keeping your bunny inside the house then the set up will be different but the core ideas are the same - space and stimulation is vital. The indoor home needs to provide not only somewhere secure for the buns to retire to but also be a safe environment which protects them from wiring and other potential hazards. They need the minimum exercise area when confined and an indoor cage, whilst generally too small to shut your rabbits away into, provides an excellent base for them to chill, litter and eat. Puppy panels can easily be attached to provide them with an accessible play area while you are out.
There is more information about accommodation needs on our website here: http://www.fatfluffs.com/info/ and also on the RWAF website. Don't hesitate to contact us if you have any questions!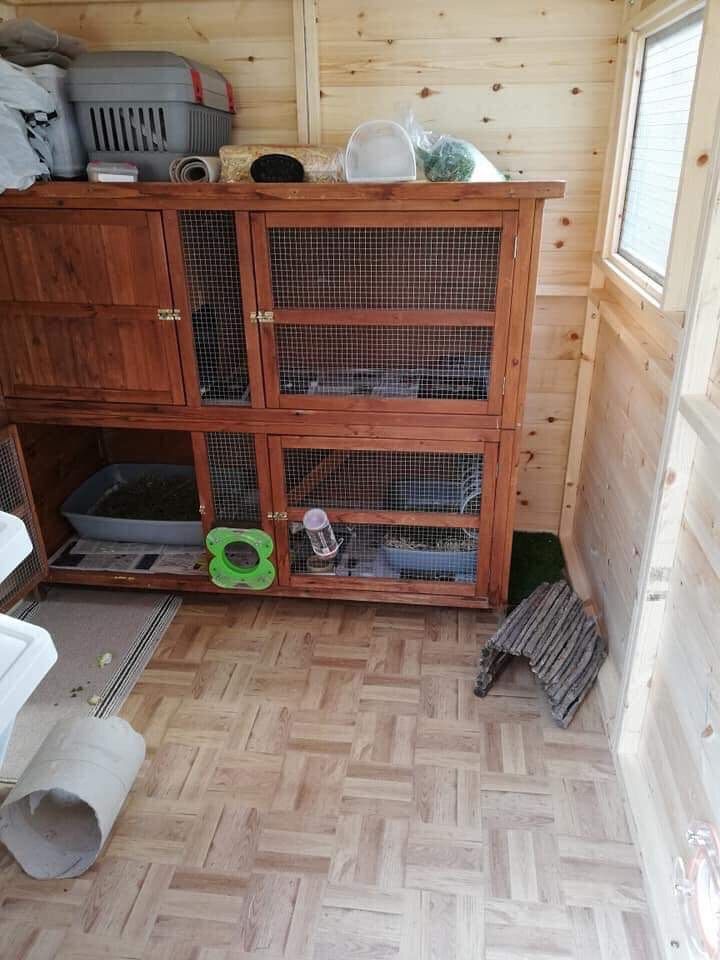 15 Jun 2019