Blog
Here is all the latest FatFluffs news. Enjoy!
You can subscribe to the latest Rabbits RSS feed here.
Rabbit Keeper

Fat Fluffs Rabbit Rescue & Rehome, a small animal charity based in Hampton in Arden, is looking for a Rabbit Keeper to join it's dedicated team.

Working three days a week (18 hours opposite a current two day part time employee) you will be responsible for the welfare and wellbeing of all the rabbits at the rescue including feed, environment, enrichment, health and care, data entry and analysis as well as many other duties.

This will be a very hands on job requiring commitment, confident handling skills and will involve getting to know the animals personally, making it a physical but rewarding job for the right person.

You will ideally be someone with recent animal enrichment and handling experience, have a passion for rabbit welfare, a flexible, confident, outgoing personality with good written and verbal communication skills and a relevant qualification preferably to degree level. A first aid qualification would also be advantageous.

To apply please send a CV and covering letter to: chloe@fatfluffs.com
14 Jul 2017
Does anyone have a spare couple of hours this festive season? We know everyone has lots of exciting plans over the coming few weeks but our bunnies still need 24/7 love and care so if anyone could spare a few hours one morning to pop in and give us a hand with giving them a clean and a cuddle they would really appreciate it - please email volunteer@fatfluffs.com or give Adam a call on 07737 218035 - thank you so much!
22 Dec 2016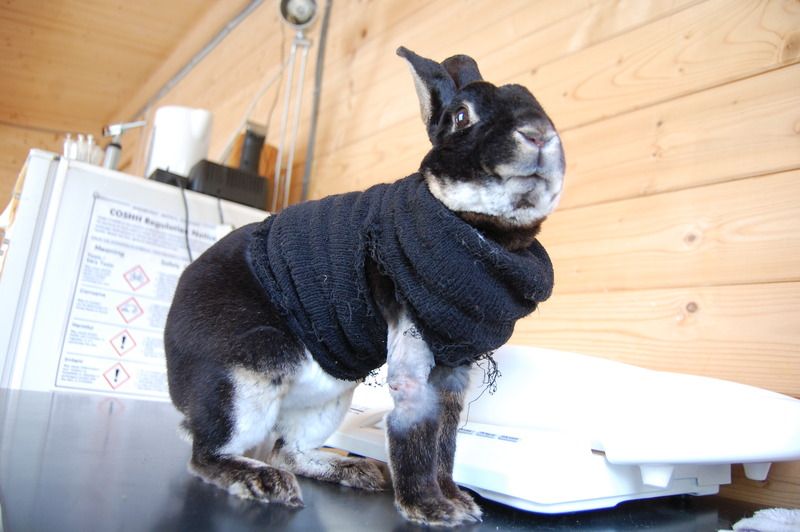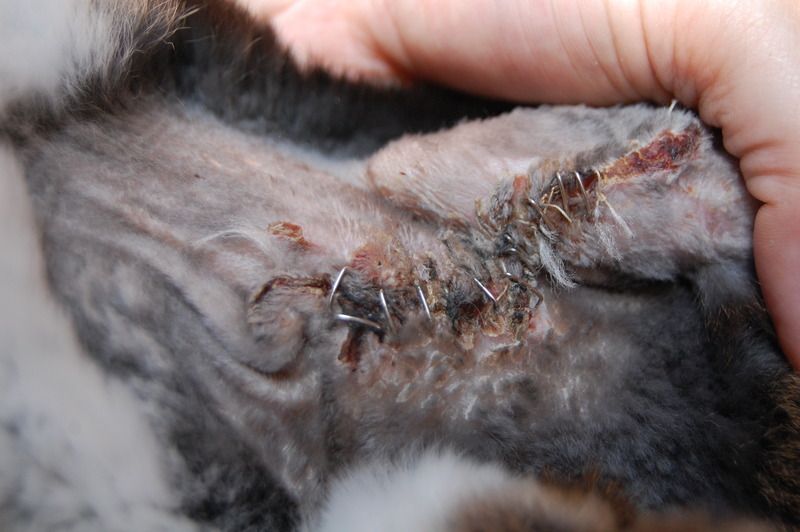 This is Bugsy modelling one of our Fat Fluff Pop Socks (Post Op Sock) Bugsy had a very large abscess under his right armpit about the size of a tennis ball which was successfully removed by our fab vet Rebecca - but Bugsy is a monkey and chewed his stitches so he is now in his pop sock and stapled and healing well! A very kind adopter gave us these runaround items - 4 x 8ft tubes and a hay hutch which we are auctioning off to help pay for this little man's op. If anyone is interested in purchasing all or any of these then make us an offer and it has been requested that a carrot is thrown in with the offer and brought on collection ..... Thank you!!
08 May 2016
Massive thank you to everyone who attended and supported our gala - we had a fantastic time and raised a massive £850 for the bunnies. As you know our vet bills are always mounting so this will go towards them which in turn means that our bunnies get the treatment and ops that they need so they can go on to loving new homes.
Additional special thanks goes to Julian for organising the event and making it such a success. Julian has now stepped down as our Events co-ordinator due to new family commitments and, whilst we will miss him, we really appreciate all he has done for us and wish him and his family all the best for the future.
28 Apr 2016
Massive thank you to everyone who supported and came along to our bunny gala. We raised an impressive £850 for the bunnies and we all had a great evening dressing up, eating and dancing. Big thank you especially to Julian for organizing the night - he did an amazing job and made the whole night a great success!
03 Mar 2016
There is also a vegetarian option : Hearty vegetable and mixed bean Wellington, complemented by a fresh tomato and thyme sauce. Just write 'vegetarian' by the main course option on your return slip.
29 Oct 2015
After a nerve wracking hour of debate Solihull Council came to vote and recommended approval with conditions. The bunnies are safe, they're staying and we can carry on taking care of them without fear!
Thank you so much to everyone who supported us, prayed for us, loved us and helped us through this. We genuinely could not have done this without you!!x
Thank you!!x
12 Mar 2015
Dianne has set up a petition to Solihull Council asking them not to close Fat Fluffs. Please could you sign and ask your bunny mad friends to as well?
http://www.thepetitionsite.com/112/181/659/urge-solihull-council-not-to-close-fat-fluffs-rabbit-rescue/
07 Mar 2015
It is an incredibly tough time for us all here at Fat Fluffs and I am copying and pasting a facebook post from my husband Andy, that summarises it for us so you can share what we are dealing with.
"The planners are trying to shut Chloe's rabbit rescue down as they deem it more than a hobby.
There are no given guidelines for what constitutes 'more than a hobby.'
This allows them to demand a planning application for "mixed use" at my home which then requires us to ask for retrospective permission for the sheds that we've built.
They are currently recommending a refusal.
The application goes before the planning committee on Wednesday and if refused enforcement action will soon follow - forcing Chloe's Fat Fluffs Rabbit Rescue to close.
You can show your support for Chloe and the rescue in one of three ways:
1. click this link and make a comment at the bottom showing your support and saying why you think the rescue should be allowed to stay open at our house:
http://ww2.solihull.gov.uk/planning_new/…/ViewAppDetail.asp…
2. Write a short email to anyone you think may be able to help - your MP, local councillor, local newspaper & TV telling them what's happening.
3. Please Like, Share and Tag and help spread the word that something you care about is about to be forced to close.
And if you're still keen to do more bring all your friends to where the meeting is happening and show your support for Fat Fluffs.
- The deciding meeting will commence at 4.30pm at the Civic Suite in Solihull council house here:http://www.solihull-interactive.org/map.cfm…
(for those local to the area it's apparently across the grass by the entrance to Touchwood car park.)
Please keep us in your thoughts and prayers during this very difficult time"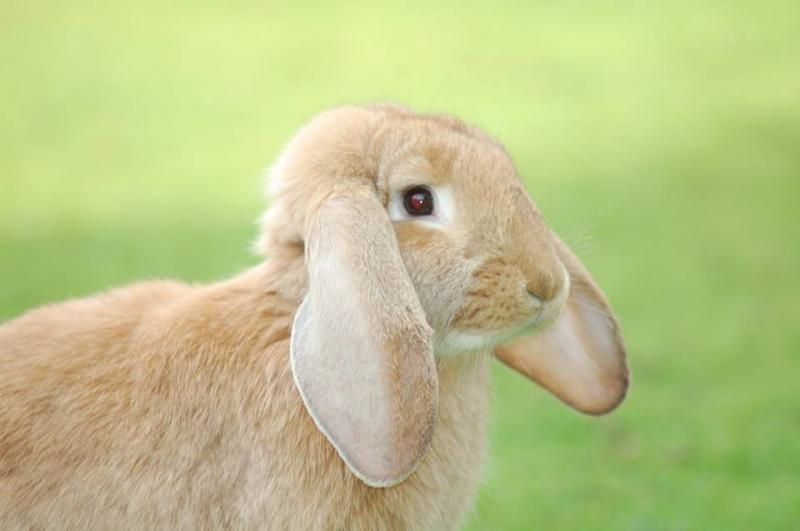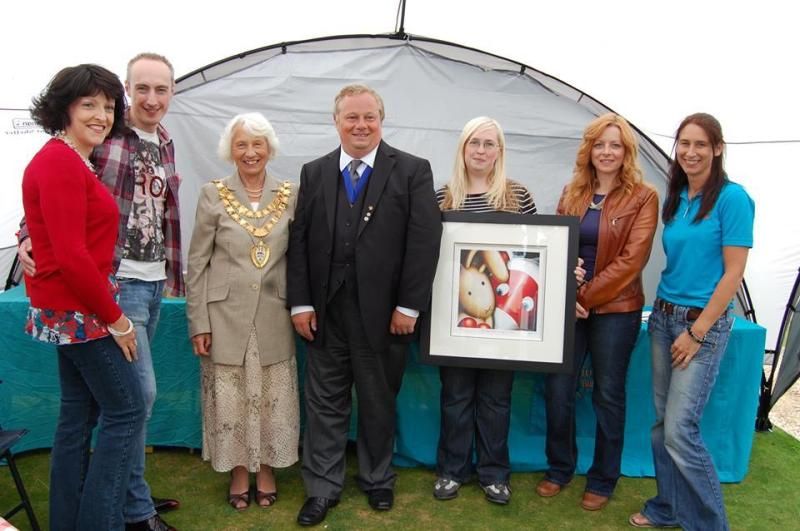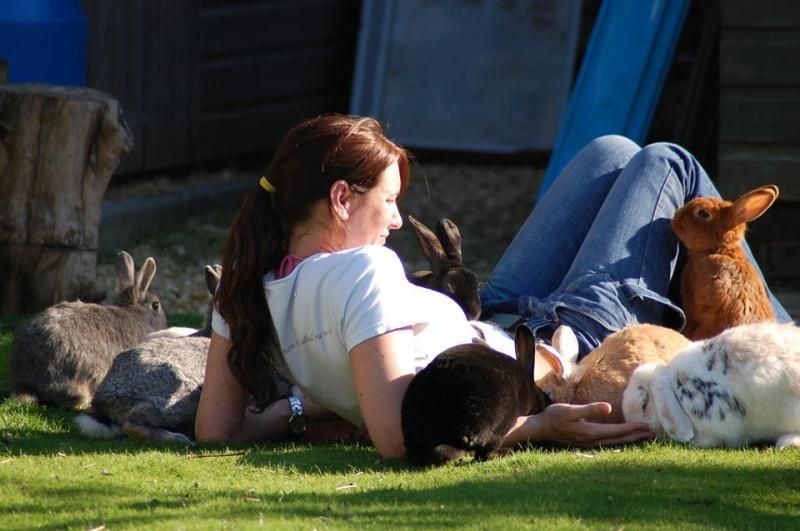 06 Mar 2015
Its been a busy week in bonding, we have had 3 bonds in.
They have all gone well so far especially for little Mayson and his new wife Snowball. Mayson is one of our Rex babies brought in a few months ago.
Mayson and his new wife went home yesterday and his mum has been posting pictures on our Facebook wall - he definately already has his paws under the table! He will be one lucky and very spoilt bun!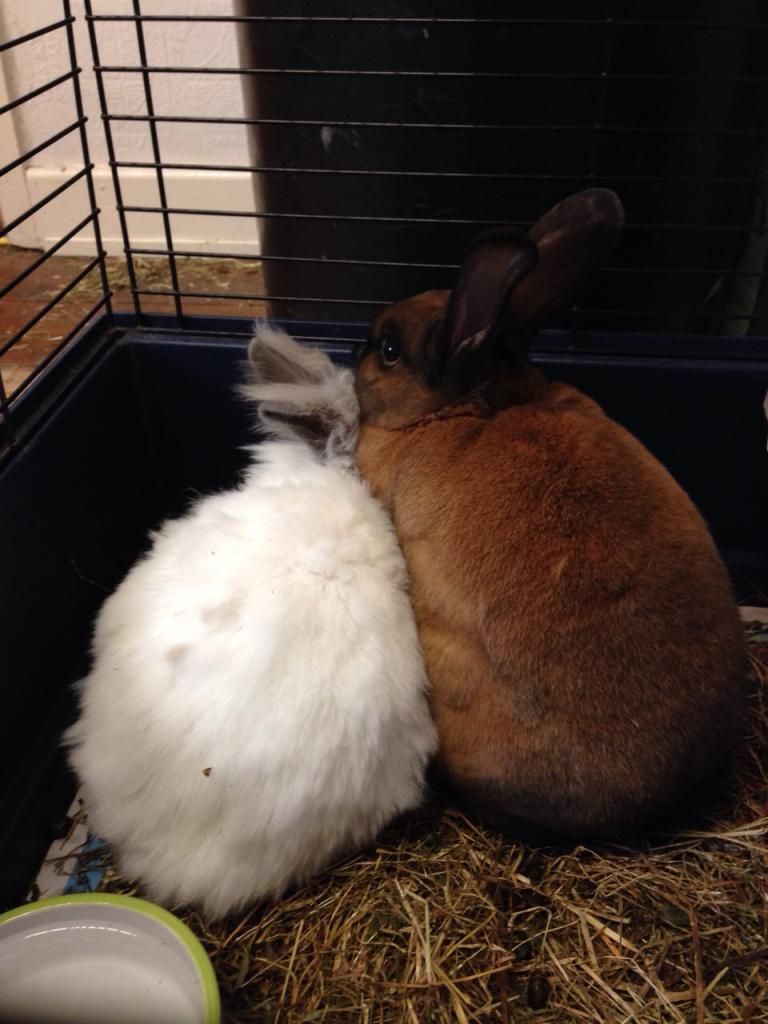 We have also had two trios in- trios are always a bit more tricky to bond!
One trio has already gone home where they have continued to behave but also cause a little bit of trouble. Mum is keeping a close eye on them and carrying on what we started. A few phone calls of support and we have every confidence that it will succeed! Paws crossed!
The last trio are going home on Monday. Little Star lost her husbun and hasn't been overly keen on sharing her life with her mums other bundles of fluff. If Star decided a trio isn't for her she will be looking for a new husbun to snuggle up to.
25 Jan 2015